'Tis the season to befriend thy enemy in order to sell stuff.
The post Microsoft Sending Holiday Cheer to Apple Is Heartwarming and Crass appeared first on WIRED.
Considering the amount of publicity a wrongful DMCA notice can generate these days, it's no surprise that when a gift of a story presents itself, people are happy to jump on board.
Unfortunately, however, some stories are more complex than they first appear and when that complexity is borne out of a deliberate desire to mislead, chaos is bound to ensue.
On November 25 a tantalizing piece appeared in Electronic Beats detailing how in an apparent desire to protect copyright, Soundcloud had finally gone too far. A follow-up piece from YourEDM put meat on the bones.
"Just when you thought Soundcloud couldn't get any worse, they strike again harder than ever. Now reaching an all time low, Soundcloud has removed a track that is nothing but 4 minutes of pure silence due to 'Copyright Infringement' claims," it declared.
The piece was uploaded to an account operated by DJ Detweiler and consisted of a remix (if one could ever be possible) of the John Cage 'track' 4'33", a famous performance consisting of nothing but silence.
"That's right, a song that has literally no sound was flagged for removal. How? Because Soundcloud is lazy and takes shortcuts to flag and remove content," the YourEDM piece continued.
"Instead of crawling the uploaded content for copyright material, which takes a decent amount of CPU power, Soundcloud has resorted into cutting that process out entirely and beginning to flag content based on JUST the track title."
As recipes for outrage go, this was an absolute doozy and no wonder it was picked up by several publications in the days that followed. However, as is now becoming painfully obvious, the whole thing was a giant stunt. A statement from Soundcloud obtained by Engadget revealed the cringe-worthy truth.
"The upload referenced in the screenshot was not a track of silence and was taken down because it included Justin Bieber's What Do You Mean without the rightsholder's permission," the company said.
"The respective user uploaded the track under the title "4'33"," which is also the name of John Cage's famous piece of silence but it was not, in fact, silence."
So what were DJ Detweiler's aims? Well, trolling the press appears to be one. In a biting follow-up amid several retweets of regurgitated articles on the same topic, DJ Detweiler posted the following image.
"I AM A JOURNALIST FOR AN INTERNET MAGAZINE" STARTER PACK pic.twitter.com/4nBuhZ3RsV

— dj detweiler (@DeeJayDetweiler) November 30, 2015
Another aim appears to be recreating the work of Cage to prove a point. Although Cage's track 4'33" was supposed to be silent, 'performers' are expected to be present but not play. Unless done so in a vacuum, the resulting 'performance' therefore includes ambient noise. Equally, it appears that DJ Detweiler's 'silence' is now intentionally causing noise around the Internet too.
"We are making a remix of the original performance of John Cage. The only different thing is that we are making it on the internet in 2015, instead of doing it in a space like a theater, like John Cage did. The whole environment around what we're doing is the performance because everybody's reacting."
But trolling and frivolity aside, it does appear that DJ Detweiler have a copyright message to deliver.
"When John Cage wrote that piece, one of the main reasons was because he was trying to ask, who owns the silence? Who has the copyright for the silence?" they ask. "The laws surrounding copyright at this point seem highly outdated and need some sort of reformation, and we just want to push that."
While the group have certainly achieved their aims, it's perhaps a bit of a shame that's been achieved at the expense of publications who mainly appeared to have sympathy with often overreaching copyright law.
That being said, when one looks at DJ Detweiler's Facebook and homepages (epilepsy warning!), the value of doing more research really starts to pay off.
DJ Detweiler are taking part in a panel discussion about "branding, hype and trends" this Thursday at the 3hd Festival in Berlin. He's described as an individual there but at this point, who knows?
In the meantime enjoy his/their remix of Sandstorm, Smack My Bitch Up, and my personal favorite, DJ Hazard's Mr Happy.
Source: TorrentFreak, for the latest info on copyright, file-sharing, torrent sites and ANONYMOUS VPN services.

Source: TorrentFreak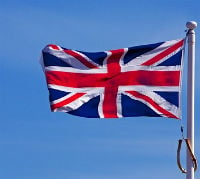 In an effort to curb online piracy, early last year the movie and music industries reached agreement with the UK's leading ISPs to send 'warnings' to alleged pirates.
Under the new system copyright holders will monitor illegal P2P file-sharing activity with a strong focus on repeat offenders.
The warning program is part of the larger Creative Content UK (CCUK) initiative which also includes an educational component. Though various PR campaigns the coalition hopes to change people's attitudes towards piracy.
CCUK was launched after years of negotiating and the plans were widely discussed in the media. However, when the first campaign launched a few weeks ago there was a remarkable silence.
The first education campaign is called "Get It Right from a Genuine Site." It encourages people to stay clear from pirate sites and use licensed services instead, so that copyright holders and industry employees are properly compensated.
The campaign was promoted alongside an ad which aired during the UK version of The X-Factor and elsewhere late October. In the high-profile advertising spot, which isn't cheap, viewers were encouraged to duck dodgy sites and go legit.
"Get the stuff you love from genuine sites and support creativity. Download or stream from dodgy sites and contribute nothing. It's your choice," it says.
Get It Right from a Genuine Site

CCUK is encouraging the public to use the hashtag #genuine to promote the initiative. However, thus far the response has been rather underwhelming with only a handful of tweets, mostly from industry insiders.
Today, the hashtag is mostly used in totally unrelated tweets and on other social media the project isn't really taking off either. The official Facebook page of the campaign has only 114 likes.
The only Facebook comment responding to the campaign ad is not very encouraging either. "It's not 2003. No one's getting pirated music from IRC or whatever," it reads.
In addition to the ad, CCUK is also backing a large street art project. It's not entirely clear how this offline project relates to online piracy, but perhaps it's an effort to appeal to the target audience.
TorrentFreak asked CCUK who informed us that they are happy with the progress they've made thus far.
'Get it Right from a Genuine Site' is a long term campaign which seeks to engage consumers across numerous channels about the wide range of legal sources available and help raise awareness of the value of creative content."
"We are very pleased with the progress of the campaign to date and as awareness continues to build, we expect to see strong results for the creative sectors in the coming year."
In the months to come CCUK will release additional campaigns as well as the piracy alerts program, where BT, SKY, TalkTalk and Virgin Media will notify pirating subscribers.
A CCUK spokesperson previously informed us that their ultimate goal is to bring down local piracy rates. During the months following the rollout the file-sharing habits of UK Internet users will be frequently polled to measure the impact of the campaign.
"The aim of Creative Content UK is to encourage greater use of legal content services and to reduce online copyright infringement. There will be regular measurements of legal and illegal consumption of content throughout the duration of the initiative, which will be compared with levels before the launch of the program," CCUK told TF.
Considering the response and exposure thus far, there's still a long way to go.
Update: added a response from CCUK
Source: TorrentFreak, for the latest info on copyright, file-sharing, torrent sites and ANONYMOUS VPN services.

Source: TorrentFreak